Circular Bead Dispensing System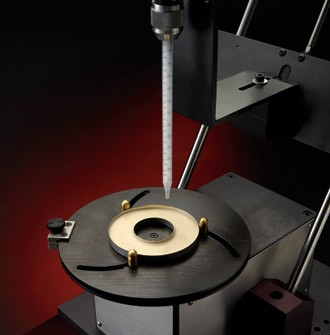 Considerably less expensive than XY system alternatives, the Exact Model 2497 Circular Bead Dispenser offers excellent performance for the price. Circles up to 8″ in diameter are achievable; larger special configurations can be quoted upon request. A typical unit consists of a yoke on which a dispense valve, syringe or other device can be mounted. Additionally, a spinning nest is provided which is machined specifically to hold the users part. A control console provides all necessary logic functions. Extra nests can be quoted upon review of parts or drawings. The unit can be used with single component materials and can also be easily integrated with meter/mix and dispense systems for use with plural component reactive resins. Numerous feed options and dispense valves are available to provide turnkey systems.
The standard model uses an SCR drive on the motor and a solid state timer to control the rotational duration. For more critical rotational repeatability, the 2497 is available with a stepper motor. This option is well suited to applications where there is a need to take incremental shots through portions of an arc, to dispense a continuous bead through a partial arc, or to come to the same "home" position on each part after a full dispense cycle.